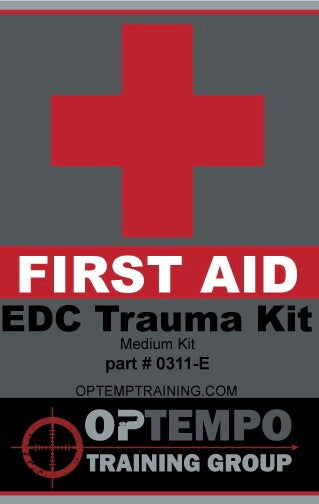 EDC TRAUMA KIT
Original price
$45.00
-
Original price
$65.00
This mini Trauma kit is designed to go anywhere while being prepared for everything. This is a scaled down trauma kit for every day carry (EDC) designed to stop bleeding. Bleeding is the #1 cause of death in traumatic injuries. The world has changed, be prepared to care for you and your loved ones. 
SWAT-T

 

Tourniquet is one of the most used tourniquets in the US. Carried by police and military alike the SWAT- T can be used to stop a major bleed, splint a broken bone and just about anything else you can think of. One of the best and safest tourniquets around.
OCCLUSIVE DRESSING

 

5"x9" Xeroform gauze.
PRESSURE DRESSING

 

6 inch (wide) hemorrhage control bandage.
ABD PAD

 

5"x9" absorbent pad.
Compact Style– lets you take this kit anywhere. All contents come in a 12oz mylar bag and fits perfectly in small pockets on backpacks or rucksack, glove compartments, desk drawers, cargo pockets, tackle boxes, and gun or ammo boxes. The packaging can be used to seal a chest wound and will help keep the contents inside protected and sterile.
OTHER CONTENTS–

 

Compressed Gauze

 

is sterile and can be used to plug an exit wound, stuff a wound cavity or wrap a long slash wound from a knife attack.

 

4" Gauze roll

 

can but used as an extra layer of protection, stuff a wound cavity or secure compressed gauze on injured area.

 

Trauma Shears

 

for cutting through gear and clothing to get to a wound.

 

Nitrile Gloves

 

for safety during treatment.