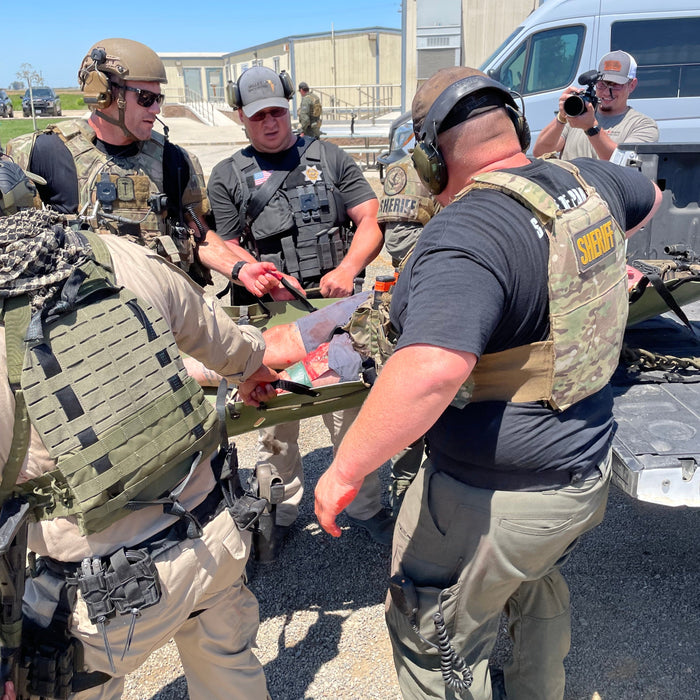 2-DAY TECC LIVE FIRE COURSE TBD, 2023
Sold out
Original price
$600.00
-
Original price
$600.00
One of our premier courses, we present an intensive 2-day tactical all combatants medical course that culminates with live-fire medical exercises. TCCC/TECC was designed for the Special Operations medical community and continues to evolve and find a home in any branch of public safety that has the potential to respond to violence or the aftermath. This is a must have course for professionals who go into harms way on a daily basis.

Nationally recognized NAEMT TECC all-combatants certificate awarded upon course completion. 
Contact us for the private course rate for your agency or unit. 
Prerequisite: Intermediate, or higher, proficiency with carbine and pistol. Physically fit (running, lifting, etc required in course). Proof of prior courses/experience will be requested.   
Emergency Trauma Care Course highly recommended. 
Tuition: $600, range fee $56/student, training medical equipment $111/student. 
LOCATION/TIME: TBD Spring 2023
Topics:
TCCC/TECC curriculum
Top tier emergency medical care techniques
Equipment and supply considerations
Injured shooter rifle and pistol work
Hot zone evac procedures
Small unit shoot & move tactics
Hardware/Equipment:
Functional semi-auto pistol of choice
(Optional) Rifle or sub-gun of choice, with sling
3 or more magazines for pistol, 6 for single stack
Minimum of 400 rounds of pistol ammo (provided by student)
3 or more rifle/sub-gun magazines
Minimum of 600 rounds of rifle/sub-gun ammo (provided by student)
Tools, cleaning kit, and lubricant for your weapon systems
Notepad, pen, sharpie
Ear protection (electronic preferred)/ eye protection
Complete tactical gear for your mission (vest, belt, helmet, plate carrier, etc)
Training medical supplies (IFAK/TQ/chest seals/combat gauze, etc)-provided by student. Cost $111 each
Seasonally appropriate clothing for strenuous activity
Gloves and knee pads recommended
Canteen, camelback, etc
Pack a lunch and snacks
Good attitude and open mind
Agency Enrollment: Agency representatives enrolling one or more officers- please provide all names and emails to admin@optempotraining.com for certificates. To pay by check please email admin@optempotraining.com for an invoice.