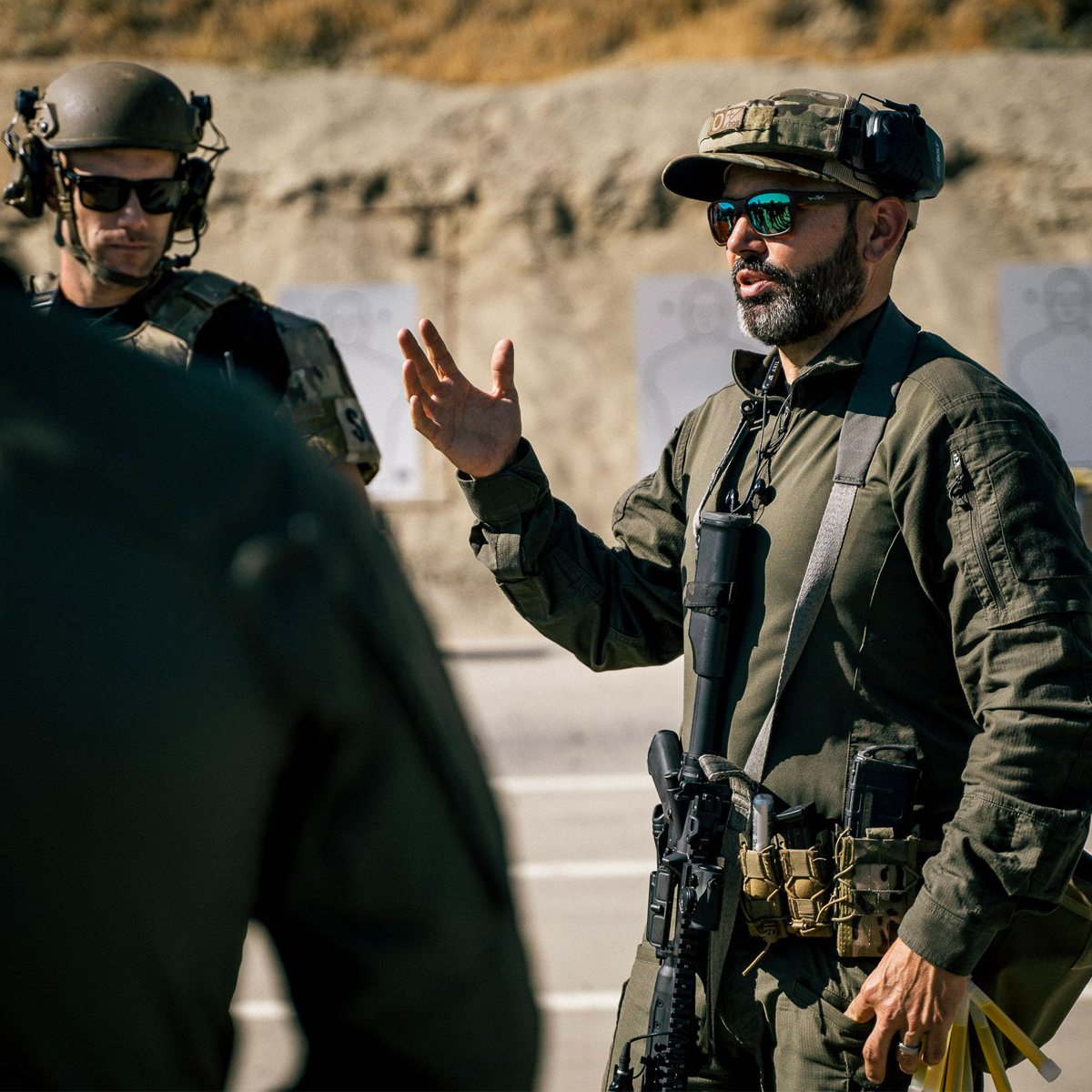 MATT HARDEN, OWNER AND LEAD INSTRUCTOR
Matt is proud to have served in the U.S. Marine Corps Infantry and to has been fortunate enough to deploy to Iraq, Panama, and Chile. He had the honor to lead an infantry squad during the Iraq (OIF) invasion. Matt's time in the military prior to 9-11 laid the foundation for the shift to the post-9-11 world and subsequent Iraq war, where he put his skills and training to the test.
Combat operations and observing/instructing foreign military/police units further developed his skills and training ideology. Matt became a Law Enforcement Officer and now serves on an active SWAT team. He continually grows his skill set by learning from some of the best instructors in the country. Matt is a California POST certified firearms and active shooter instructor for his agency, where he takes pride in bringing progressive training to shooters. Matt explains that his experience has shown him two things- nothing replaces quality training and people do not rise to the occasion; people revert to their training.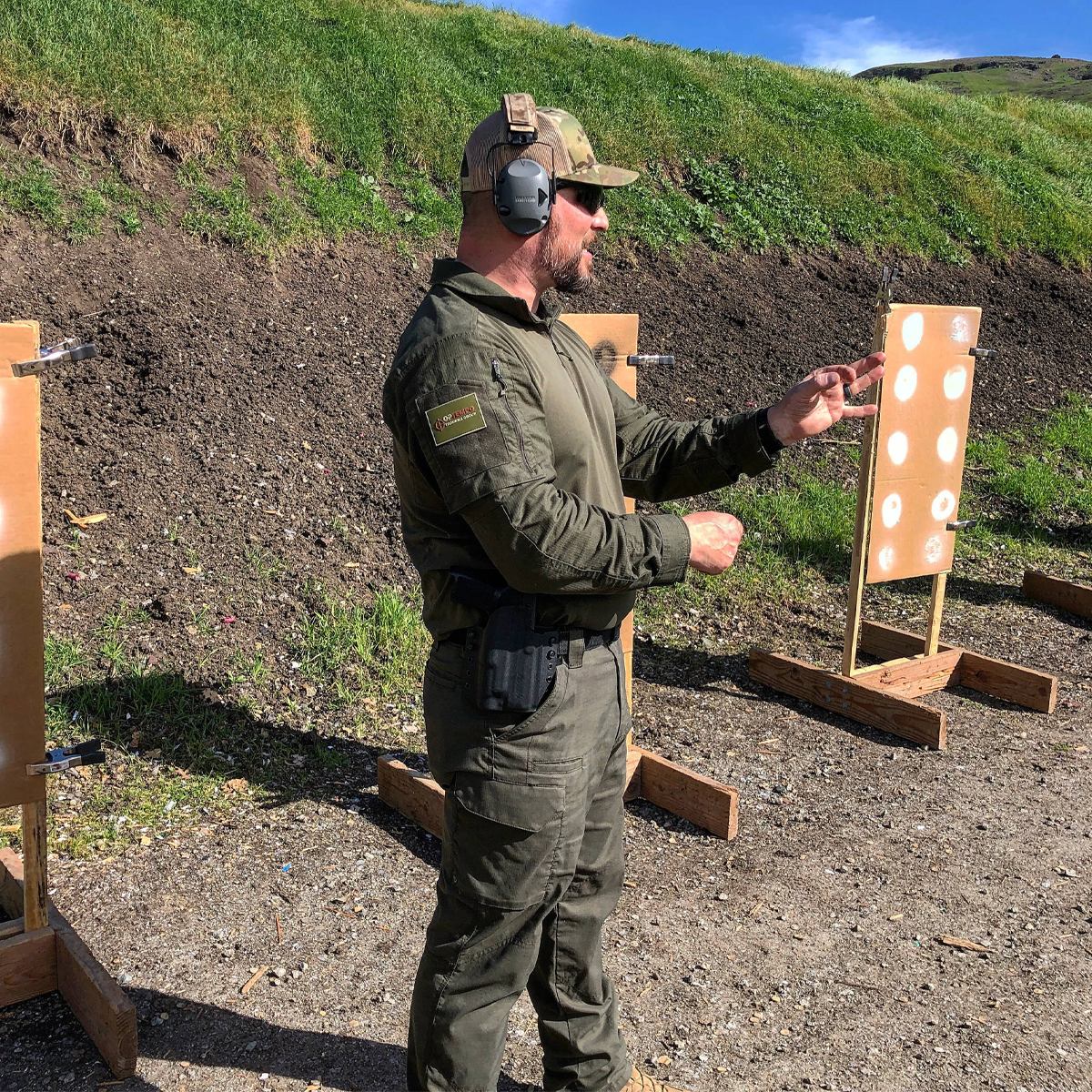 CHRIS, INSTRUCTOR and K9 SPECIALIST
Chris is a 13 year Marine Corps infantry veteran with combat deployments to Somalia and Iraq. He also served two tours in Marine Corps Security Forces including a deployment to GTMO with 1st FLEET ANTI-TERRORISM TEAM COMPANY.
After finishing his time in the Marine Corps, Chris became a police officer and served as a K9 handler, FTO, and firearms instructor. During that time he was assigned as a tactical handler and worked with his department's SWAT Team. Chris has been a California POST certified Firearms Instructor and Less Than Lethal Instructor since 2007.
Chris enjoys the challenge of training students with different learning styles, backgrounds, and skill levels.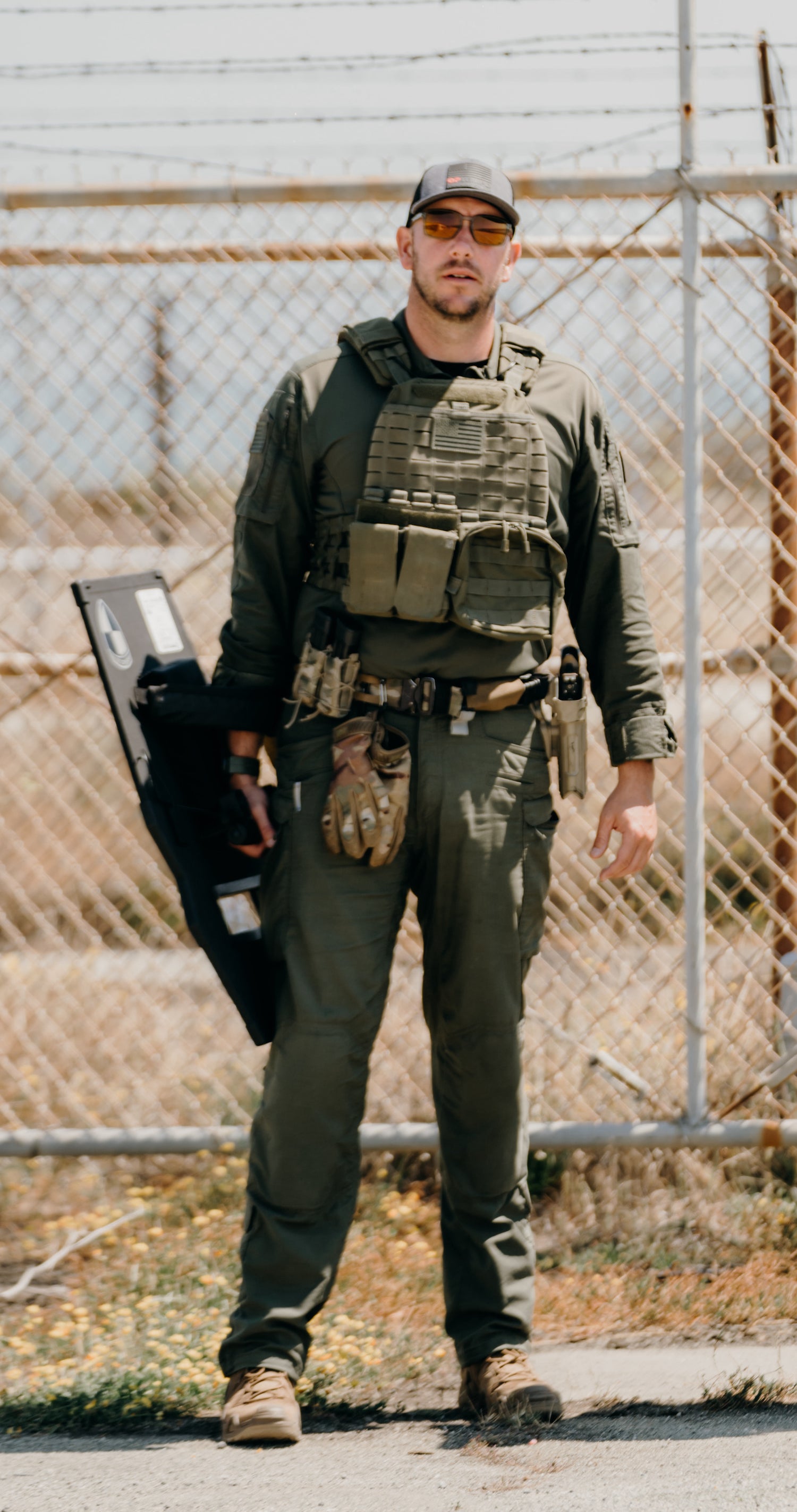 CHRIS, INSTRUCTOR and ACTIVE SHOOTER SPECIALIST
Being a Police Officer was a childhood dream of mine. I was fortunate enough to get hired on at a very young age which allowed me to grow into this very progressive and dynamic field.
I am currently a California Police Officer Standards & Training (POST) certified firearms instructor, less lethal instructor, as well as rifle instructor. I am a former member of my agency's gang unit, current narcotics detective, and a team leader on my agency's SWAT team. Through my experiences working in the gang and narcotics units as well as the SWAT team, I have become proficient in tactics ranging from basic patrol and plain clothes operations, to high risk warrant services and hostage rescue techniques.
I am a certified active shooter instructor through: Multi-Assault, Counter Terrorism Action Capabilities (MACTAC), California POST, Advanced Law Enforcement Rapid Response Training (ALERRT), and ALICE Training Institute. I am also the lead active shooter instructor for my agency and assisted with developing my agency's response and training protocols to Active Shooter and Mass Casualty Incidents.
I have had the opportunity to train with Law Enforcement personnel and civilians from around the country. I am extremely passionate about training and I enjoy passing on any and all knowledge I can in order to make us all as safe and proficient as possible.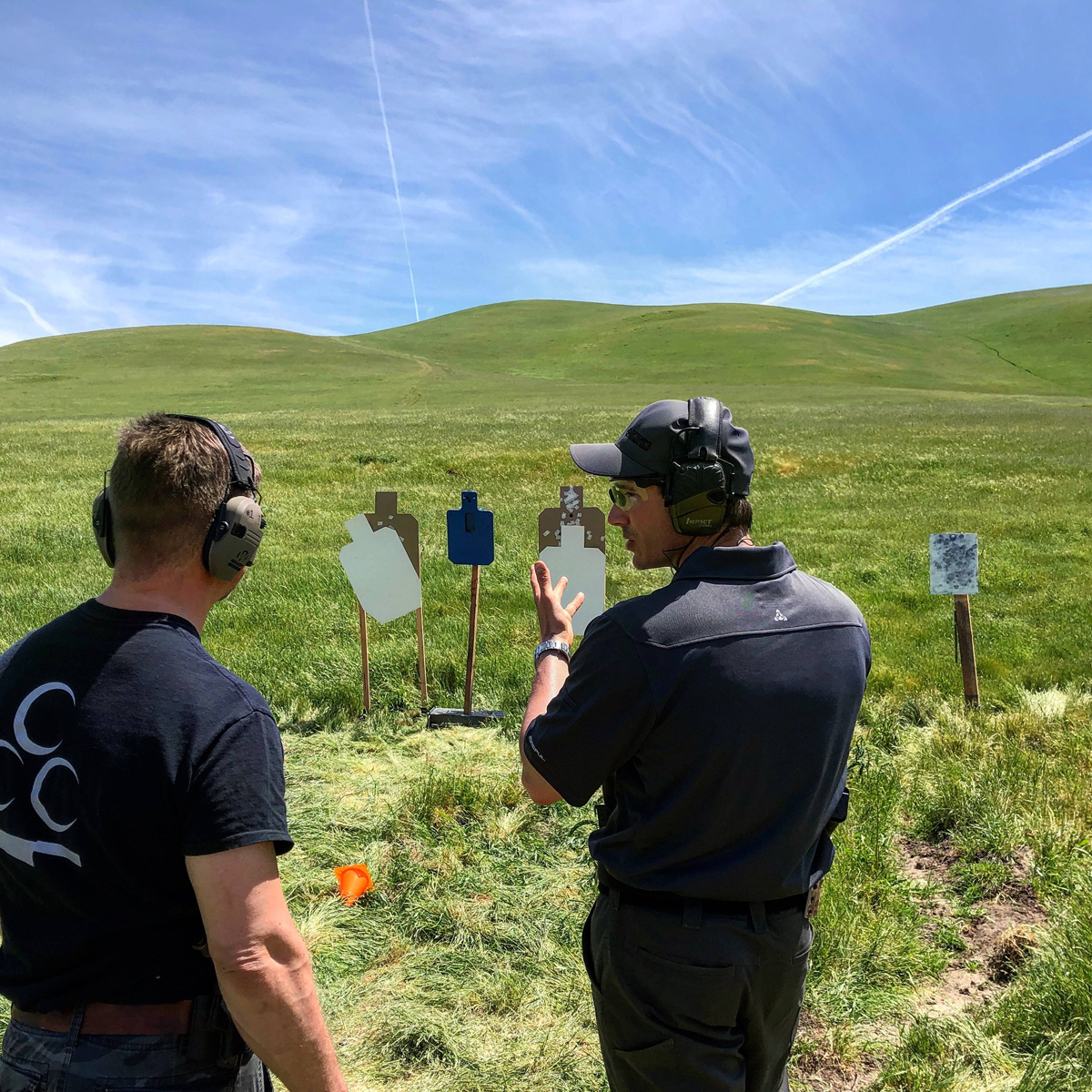 BEN, INSTRUCTOR & COMPETITIVE SHOOTER
Ben refuses to label himself as a tactical shooter. He is the closest thing we have to a resident ski-bum who can shoot surprisingly well. He has a knack for teaching what he calls "gun stuff". Over the last 10 years Ben has been a full time Police Officer in a major metropolitan area of Northern California. Ben is currently assigned to the Patrol Division. Some of his past assignments have included working in a Gang Unit and a 6 year stint on his department's SWAT Team, where he held positions on both the entry team and the sniper team. Ben is a California POST certified firearms instructor, who has previously taught Patrol and SWAT firearms classes at his agency. Ben has shot consistently for close to 15 years and has dabbled in formal and semi-formal competitions. Ben won the Top Gun award in the 2013 Best in the West SWAT Competition.
He'll be the first to tell you all the times he hasn't shot well at a match (we'll chalk these up to experience). If Ben isn't patrolling the streets in a squad car or at a range somewhere, you can find him wearing crampons, holding an ice axe, with a snowboard strapped to his back, climbing some obscure snow covered Sierra Nevada/Cascade Range mountain with the intent of reaching the summit and surfing some frozen water all the way back down. Ben is currently trying to purchase a snow covered peak with the hopes and dreams of offering what may arguably be the world's first hike-to-summit, back country snowboard, ski mountaineering (avalanche gear required), downhill pistol course. In all seriousness, we're glad to have Ben as one of our instructors. He looks forward to seeing you out on the range or in the back country!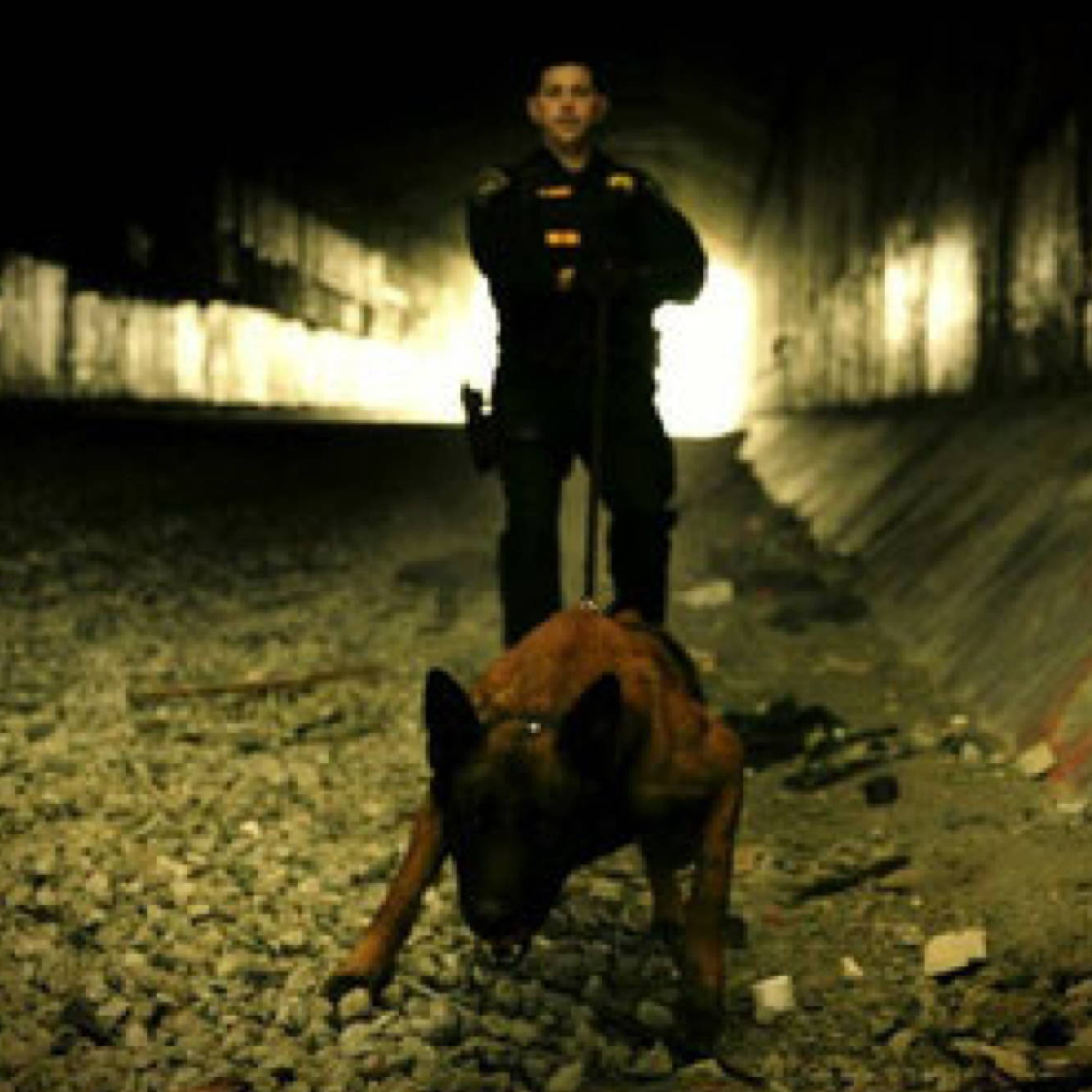 VINCE, INSTRUCTOR and CROSSFIT COACH
I was blessed to serve my nation as an active duty US Infantry Marine and had the honor of serving my country with two combat deployments to Iraq. After leaving the Marines, I continued working as a nuclear security officer and had the opportunity to become a member of the facilities quick reaction force (QRF). I started my police career in southern California and now currently serve in Northern California. I've served as a former SWAT team member and K9 handler. I am a California POST certified firearms instructor for my department's range program and a F.T.O (Field Training Officer). I've taken my love for physical training and adopted several things I've learned as a CrossFit Level 1 and CrossFit Endurance coach, applying some of those principles into my range training philosophy.
Being an active law enforcement officer in today's current climate, which is riddled with ambiguity, gives for a unique perspective and a level of relevant and applied experience. Whether you a carry a gun professionally or for shooting sports you have to become a master of adaptability in chaos - for the sake of your survival and those around you.
With over 17 years of culminated experience my training philosophy is all encompassing. I passionately believe in the physical aspects of developing a stronger human, which leads to a stronger mind and the understanding of the precursor cues which lead up to the lethal engagement.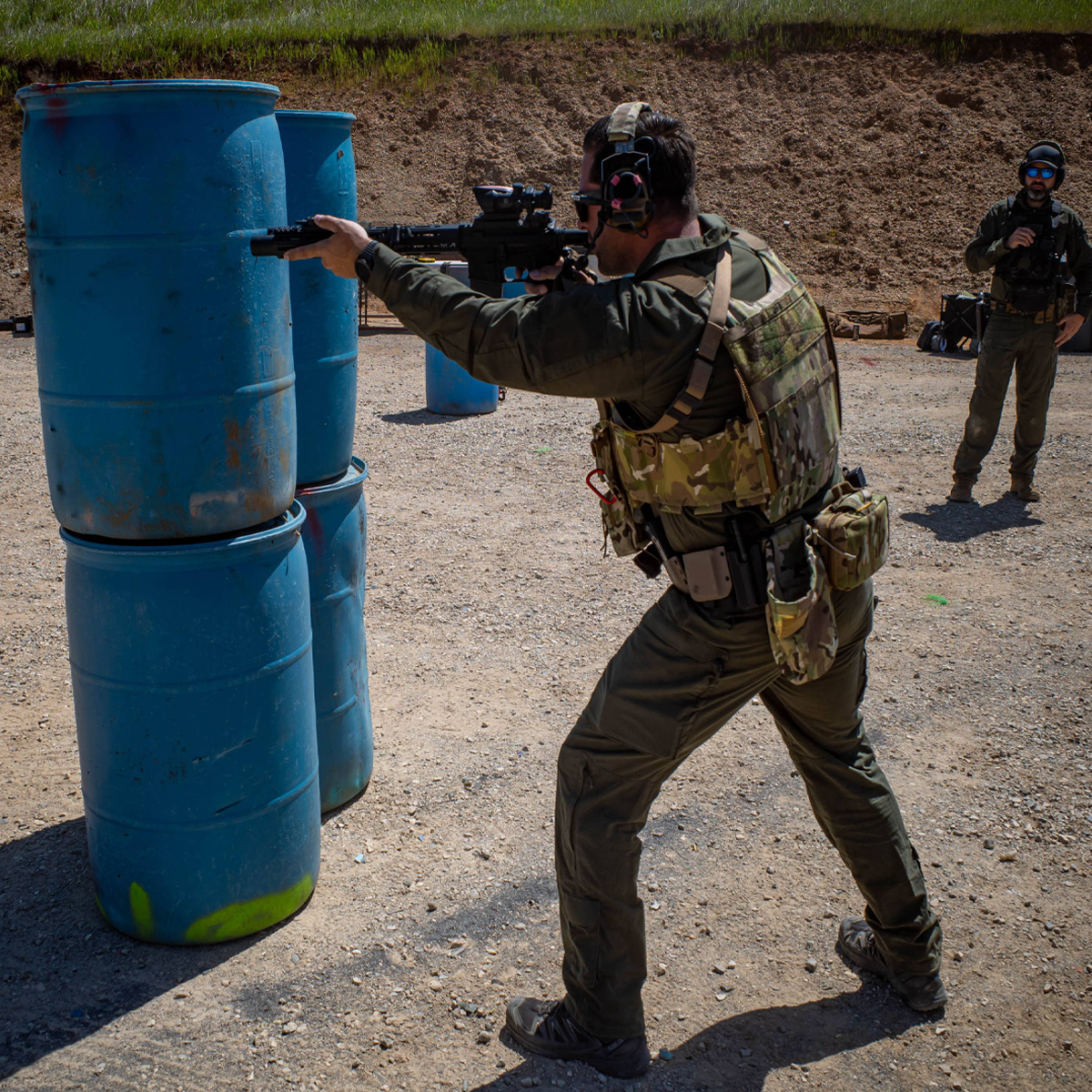 JUSTIN, INSTRUCTOR & CBRN SPECIALIST
Justin is proud to have served his nation in the armed forces and recently retired as a First Sergeant. With deployments to Iraq and Kosovo, Justin gained years of valuable experience as an Infantryman and earned numerous achievements during his career. For the last six years of his career, Justin served as an operations NCO and First Sergeant on the Weapons of Mass Destruction Civil Support Team. During his time on the WMD team, Justin gained valuable experience planning and coordinating joint interagency missions at the local, state and federal levels. As a chemical, biological, radioactive and nuclear (CBRN) subject matter expert, Justin brings a significant skillset to the OPTEMPO team. 
During his military career, Justin completed schools such as U.S. Army Airborne, U.S. Army Pathfinder, Air Assault, squad designated marksman, combat pistol application and U.S. Army combatives level 1 & 2. Additionally, Justin is trained and certified as a HAZMAT technician, Emergency Medical Technician, confined space, rope rescue, Homeland Security Exercise and Evaluation and TEEX Critical Infrastructure. Justin holds undergraduate degrees in both Homeland Security and Counter terrorism studies. 
Justin is a blackbelt in Brazilian Jiu Jitsu under UFC Fighter Davi Ramos (ATOS) and has been training in self defense for over 20 years. Justin's experience includes wrestling, boxing, mixed martial arts, Krav Maga and various forms of Military/LE hand-to-hand.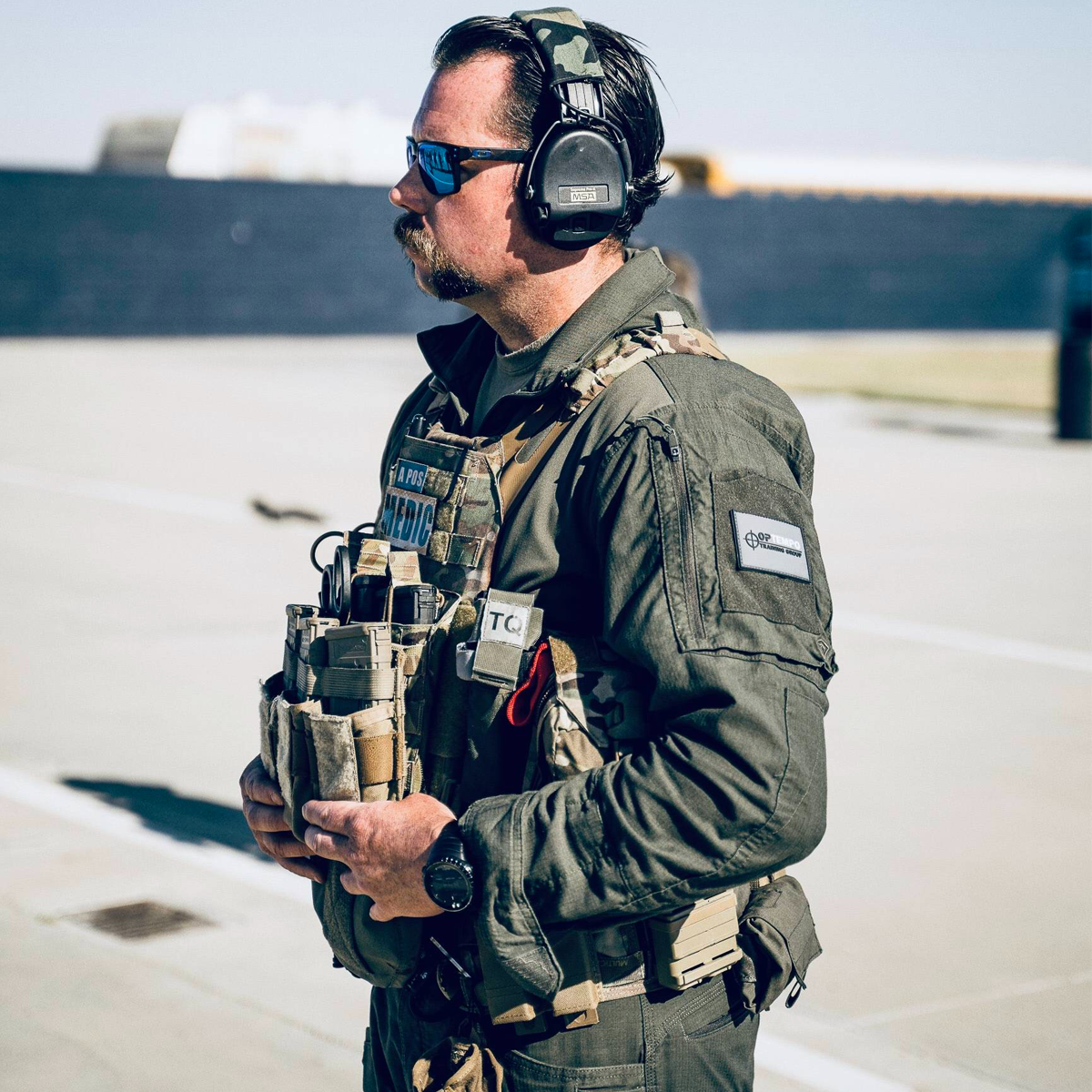 CLAY, INSTRUCTOR & MEDICAL SPECIALIST
"The Warrior, for us, is one who sacrifices himself for the good of others."
-Sioux Chief Sitting Bull
I was honored and fortunate to serve our country during times of global conflict and challenge as a United States Marine (2002-2009).   I served in multiple combat deployments (Iraq) while operating as in various roles of responsibility from Team Leader, Squad Leader, and Scout Sniper Team Leader. My passion to teach, train, and challenge students are based on hard lessons learned.
For the last 12 years I have served as a Firefighter/Paramedic working in the Bay Area. I am a licensed Paramedic (California) with certifications in ACLS, PALS, ITLS, AMLS, BLS-CPR, and a certified POST SWAT Medic and Tactical Combat Causality Care Instructor.
No matter what your job duties/specifications are; it is your sole responsibility to be prepared, well trained, and ready to execute the proper action within high level threat situations. Stress inoculation should be practiced and applied as often as possible. "Going through the motions" in good conditions doesn't prepare you for that "Bad Day." My experience over 20 years in both tactical and lifesaving environments has shown me that in "Bad Day" events we must have discipline to recognize the transition from gunfighter to lifesaver. Train, rehearse, and execute.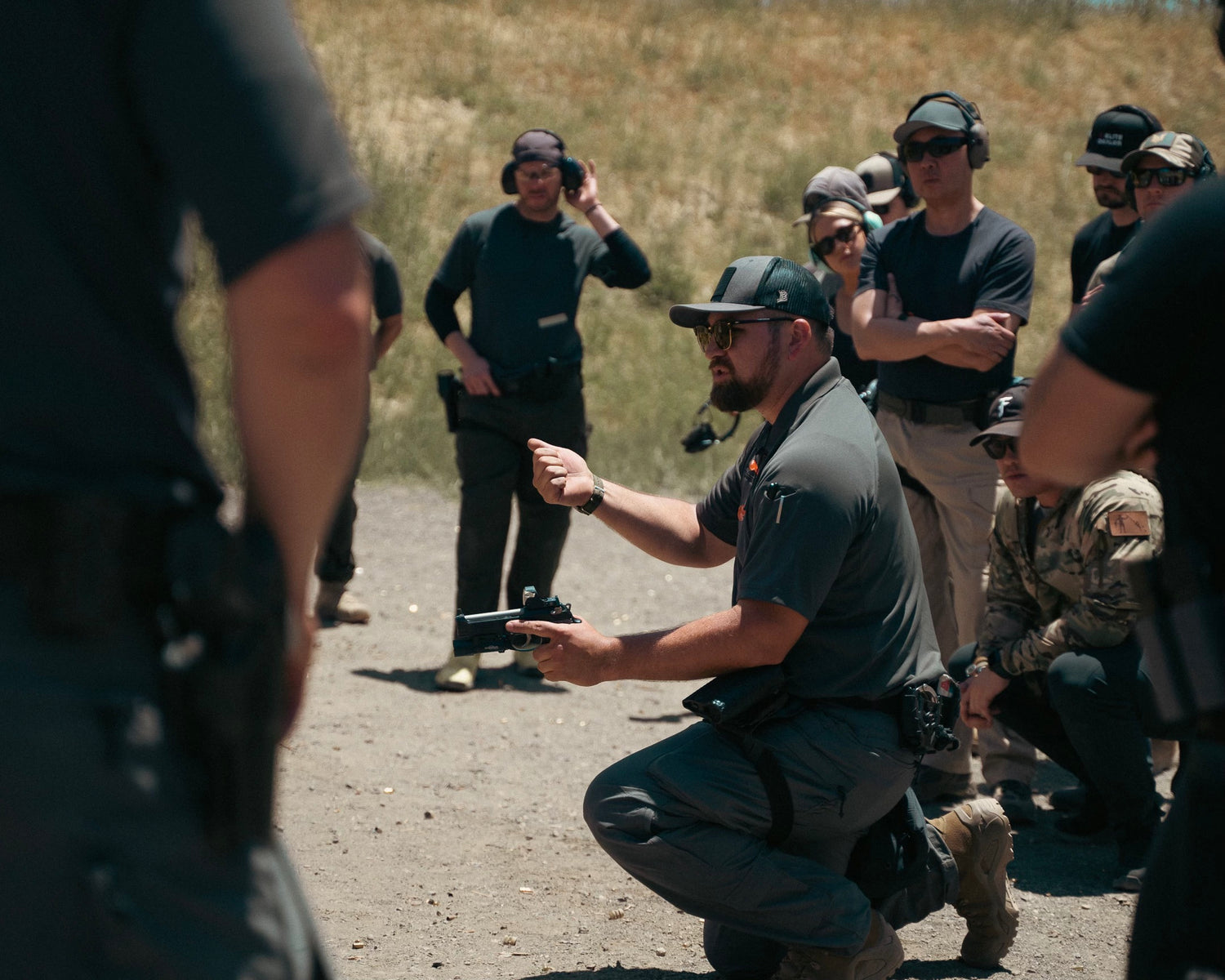 Alex, INSTRUCTOR & RDS SPECIALIST
Alexis a full-time peace officer in the San Francisco bay area. He is a POST certified firearms instructor, POST certified Academy instructor, TASER instructor, and a current member of his office's range staff assigned to his Training Division. Alexa assisted his office in transitioning all sworn staff members to red dot equipped handguns and regularly teaches a two-day POST approved instructor-level red dot handgun course. Alex holds armorer certifications for the Sig Sauer P320, the Staccato 2011, and Colt AR15, M4, and M16. When not teaching for his office, Alex regularly competes in USPSA (Carry Optics division) to better hone his skills in a constant effort to become the most proficient instructor possible.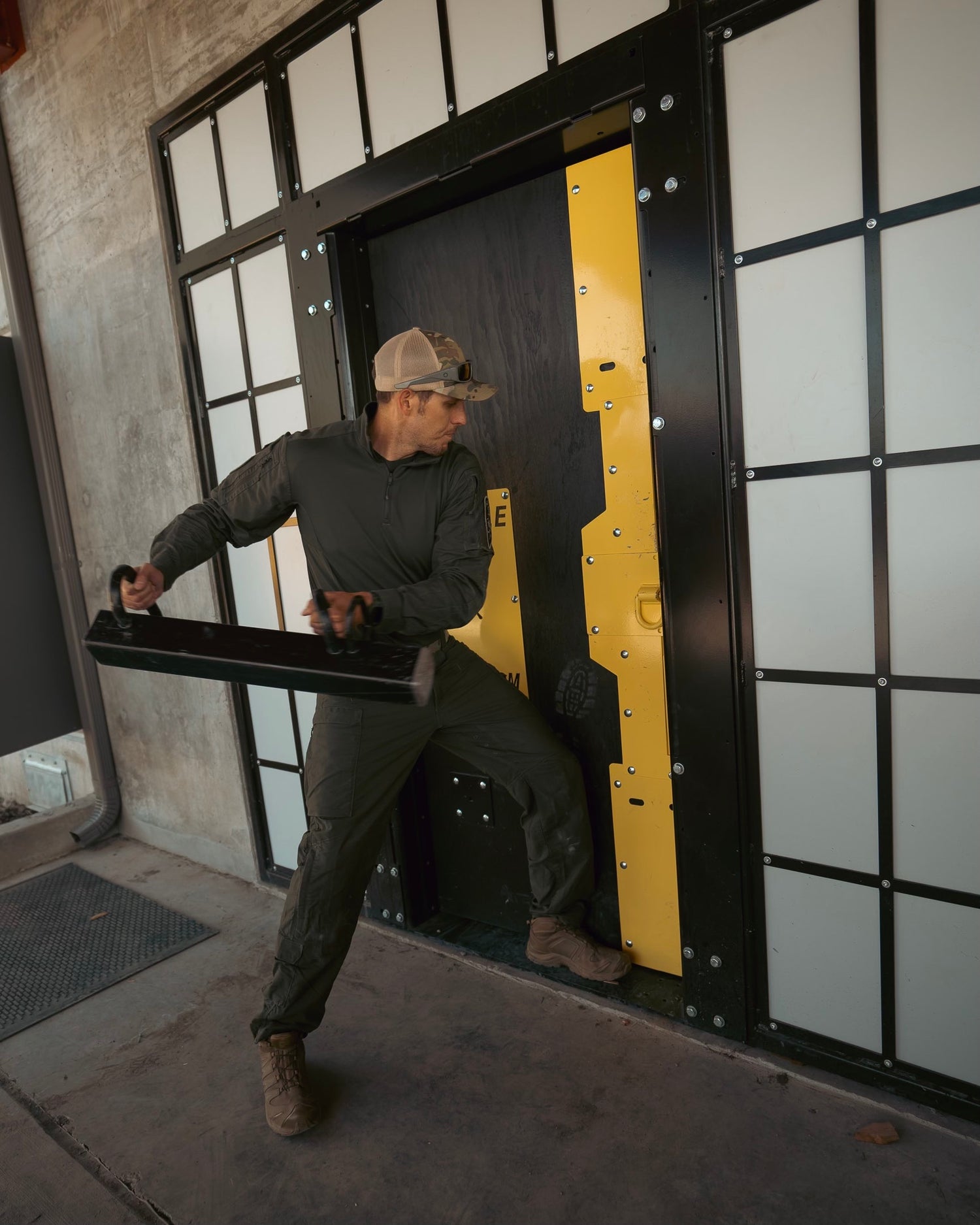 Kyle, Instructor/Strength and Conditioning Coach

Kyle has over 12 years of combined experience in Law Enforcement, including civilian and sworn
positions. He also spent several years working in his department's gang unit and has spent the last 5
years on his department's SWAT team. He is a Field Training Officer and holds POST Instructor
Certificates as a Firearms Instructor, Weaponless Defense Instructor, Ground Control Instructor, Impact
Weapon Instructor, Active Shooter Response Instructor, Red Dot Instructor, and Use of Force/De-
Escalation Instructor. He has also attended other courses to enhance his skills and capabilities such as
High Risk Warrant Service, Plain Clothes Operations, Surveillance Operations, Use of Force Analysis,
Criminal Interdiction, High Risk Vehicle Stop Instructor and many more. Kyle spent over 3 years as a
Region 1 Board Member for the California Narcotics Officer Association.
Kyle currently holds an ISSA Certification as Tactical Conditioning Specialist and is a Strength and
Conditioning Coach that specializes in tactical athletes such as Police, Fire and Military Personnel.
Kyle has a passion for learning, teaching and coaching. While self-improvement and the constant desire
to learn is always high on his priority list, he also loves to help others and is grateful for the opportunity
to share his experiences of both success and failure.
"As iron sharpens iron, so one person sharpens another" Proverbs 27:17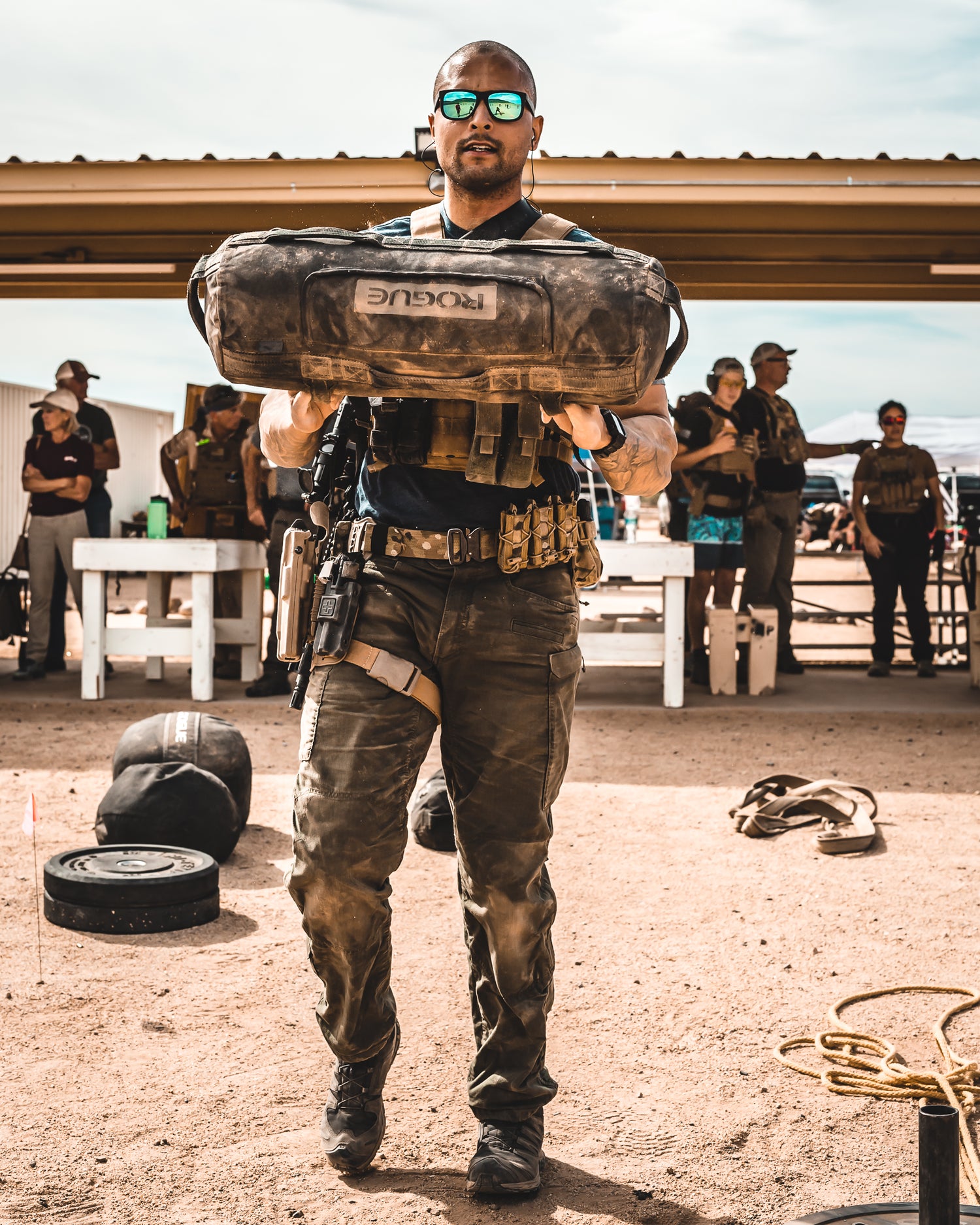 Chris S, Instructor

Chris grew up on the east coast and attended college playing collegiate football.
Chris earned a bachelor's degree in Psychology with a minor in Health Education.
After college he migrated to California and became a Police Officer in the Bay
Area.
Chris is currently a California Police Officer Standards and Training (POST)
certified Firearms Instructor and Active Shooter Instructor. He works as a member
of his agencies Gang Unit and SWAT Team. He has attended, received
certifications, and become proficient in Hostage Rescue Tactics, Active Shooter
Response, Plain Clothes Operations, High Risk Warrant Services, Operational
Planning, and Armored Vehicle Rescue Operations.

Chris is humbled to be able to assist and instruct Law Enforcement Personnel and
Civilians. He continuous to be a student, attends trainings, and looks for any and
all opportunities to pass any knowledge or experiences.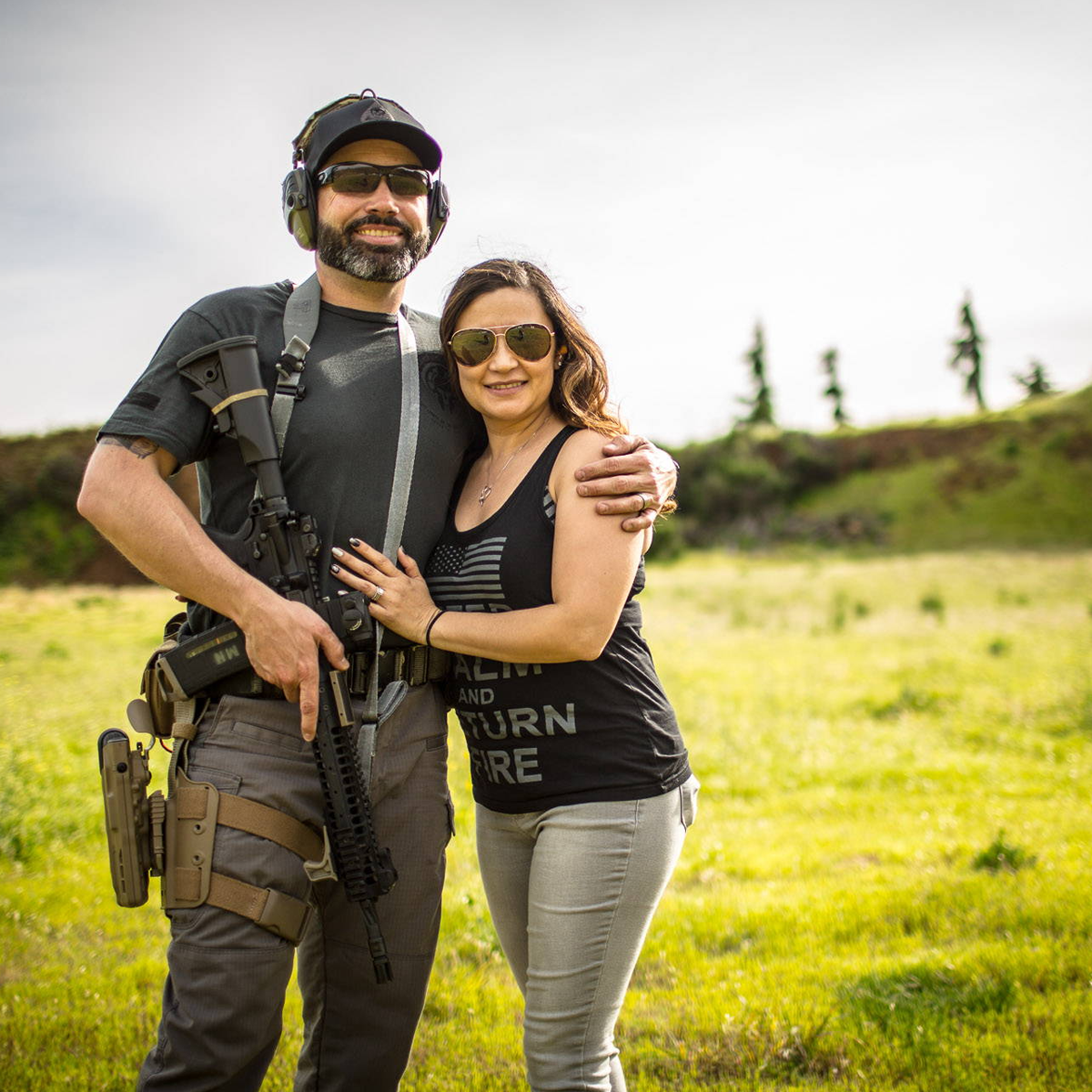 ADRIANA, OPERATIONS MANAGER
Adriana is the operations manager for Optempo Training Group. She is one of the first points of contact for all client and contract interactions. In addition, she manages all of the logistics, schedules, online store and administrative duties for Optempo. Adriana holds a Bachelors degree from The University of California Davis. She began her career in Law Enforcement as a Deputy Probation Officer in Central California and then joined a major metropolitan city in the Bay Area as a Supervising Probation Officer. She has worked in Investigations, General Supervision, Offender Link and Sex Offender Units. She has taken several POST certified courses and continues to update her shooting credentials through personal instruction from one of her favorite instructors- owner Matt Harden. You may see Adriana making occasional range appearances and helping out at major events. She especially enjoys conducting range safety checks at the Women's Pistol Foundations class.